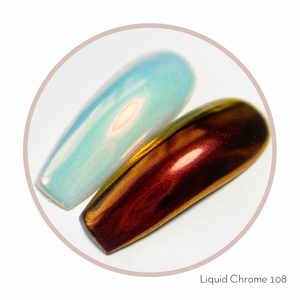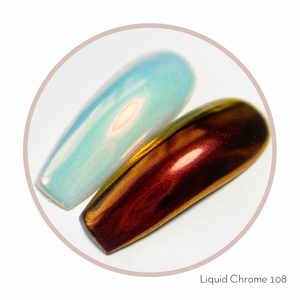 On Sale
Liquid Chrome 108
Iridescent Unicorn Chrome over white/light colours - fiery red/copper/gold over black/dark colours.
*Pigment will vary depending on what colour/shade it is applied over.
Instructions:
Apply an even layer of tack free topcoat (Shine), flip nail upside down to allow gravity to help smooth it perfectly. The smoother the better as the chrome will accentuate any flaws. Cure 15-30sec LED*

Brush on a thin layer of Liquid Chrome

While chrome is still wet, burnish (scrub) on with firm pressure using a makeup sponge, rubber glove or silicone burnishing tool.

Apply topcoat (Shine or Gloss) insuring that you seal in the chrome at the free edge/tip of the nail to prevent chipping. Cure.
*All lamps are slightly different, depending on age, usage, etc. We recommend doing a test on nail pops. Chrome should apply easily and be shiny!