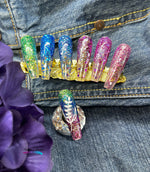 Fun with Loose Glitter ✨✨
Fall is fast approaching and what better way to welcome it in than with Glitter Nails!
Koko and Claire have given us several gorgeous loose glitters in their Sprinkles Collection and this set of 6 Fall Glitters are no exception, they are so sparkly.
 I know a lot of people shy away from loose glitter, especially chunky glitter. Many are unsure how to apply them and get a smooth finish without a thick nail.
Hi, I am Heather from @splash.of.sass.nails and I use loose glitter often in my nail studio. There is nothing more amazing than the depth and dimension you can create with loose glitter. I am going to give you an easy way to apply loose glitter to your nail all while keeping it smooth and beautiful.
And as an added bonus I will show you a simple hand drawn art technique, for those of you that need that something extra!
 Here is a list of what you will need to Glitter Up your Fall Nails:
✨ Let the Glitter Magic Happen! ✨
Step 1
Prep and Cleanse your nail as usual
Step 2
If you like to file off your gel, I always prefer to have a base protection layer. So place a thin layer of K&C Base Gel and Then place another layer of Base Gel but Do Not Cure

If you prefer to soak off your gel, then you can just put one layer of K&C Base Gel but Do Not Cure it yet
Step 3
Select your first colour of glitter and tap it into the uncured base coat with a brush

Keep adding glitter in the rainbow order of your choice until the entire nail is covered to your liking

Don't have a brush? You can also use a dotting tool or silicone I just prefer a brush.

Once all the glitter is applied, you can put your nail into the lamp for a full cure.
**Tip**
Glitter is messy and will make a mess of your brush, so picking a brush, even an older one to be your designated glitter brush is a good choice.
Step 4
This is how we encapsulate and hide the glitter under the gel so your nail is smooth

Taking your K&C Strong or Shine, place a thin layer over the entire nail, but do not cure

Now take a larger amount of the same Strong or Shine and lightly float it over the nail

This layer doesn't need to be thick, but it does need to cover all the glitter and fill in any dips and holes

Don't cure just yet!!
Step 5
This is my favourite step in making your nail smooth

Now tip your nail upside down, making sure it is Do this for 5-10 secs

This will allow the gel to dome above the glitter and leave a much smoother look

Quickly Flip your hand back up and do a full cure in the lamp
Step 6
Using your K&C Cleanse, wipe off the sticky dispersion layer

This glitter is fairly chunky so filing will most likely be needed to get the little rough spots still sticking out

Take your file and buffer, lightly file all edges and the top of your Until it feels smooth and no glitter can be felt.

Then clean off the dust
Step 7
If you love the look then you just need top coat, apply K&C Shine Top Gel and Cure

Wipe off the sticky dispersion layer and your beautiful nails are ready!!

OR****If you want to add an extra pop of art then keep on reading to the next step
Step 8 (art time)
This can be done directly after filing & cleaning off the dust, or on top of any top coat

Take K&C Gel Polish, I used white #049 Frosting

Add a large drop of the gel polish to a mixing tile or anywhere clean that is easy to remove the gel polish from when done
 Step 9
Let's draw an art design - - maybe a little wheat stalk for fall

Take your K&C Detail Brush

Detail Brush #1&2 work well for short small lines and Detail Brush #3 works well for longer lines, but you can use any detail brush for either if you prefer

Load your detail brush with gel polish - meaning run the bristles of the brush through the gel a few times to give it a very light coating of gel. Make sure there is only a very small amount all down the bristles
Step 10
Take your loaded long detail brush #3 and run it through the gel again, picking up a larger This will be for the stem of your wheat.

Draw a line for the nail. Repeat if areas need more gel. Your line doesn't need to be straight, let it have some flow to it.

Now take your shorter detail brush # 1 or 2 and pick up a tiny ball of gel just on the very tip of the brush

Place that ball down near the top of your stem and drag it out so it forms a teardrop shape
Continue to place little teardrop shaped gel along the sides of the stem.
Draw on leaves with the longer detail brush #3 using the same technique as you did with the stem
**Pro Tip**
FLASH CURE your art. Cure the gel polish for 5-15 secs after every few art steps. This cures the gel just enough so it doesn't move and if you make a mistake on another area it's easy to just wipe it away.
Step 11
When you are happy and finished with your art design remember to do a FULL Cure of the gel polish, even if you did several flash cures, a full cure is necessary. 

Then add K&C Shine Top Coat and cure.
Your nails with art are Done!!
Now did that make using loose glitter seem easier? I hope it did, and if you have any questions, please reach out to us.
I can't wait to see what you create with the Sprinkles glitter, and remember to tag @kokoandclaire #KKCPolish and myself @splash.of.sass.nails on social media so we can see and share your beautiful glitter creations.
Happy Fall Everyone!
Heather