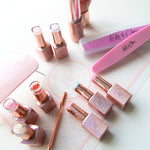 💅🏻 Peel Off Base vs Builder Gel (Formerly Builder Base) 💅🏻
Peel Off Base, Base, Builder, Builder Base, Builder Gel, Builder In A Bottle… 😳 🤯 What is the difference?!  Choosing the right one for you can be overwhelming.  Let us help! 💕
'Peel Off Base'  is our signature WATER SOAK OFF base gel.  This is perfect for the person with strong natural nails with a bit of length (free edge), wanting a salon quality mani at home that they can change easily every 5-10 days. 
5-10 days? Why such a range in longevity?  
Everyone's nail chemistry and they way we use our hands is different.  For example, I may have strong natural nails but I type all day at work. Continuous typing can wear down the color/shine on my free edge breaking the seal to my base layer.  This can result in chipping or early separation. 
Ways to increase longevity when using Peel Off Base 
Apply a coat of Strong OVER your color. (Cap the free edge.)
Apply 2 coats of Shine (capping free edge).
PRO TIP: Short nails (no length past the end of the skin/finger) are very difficult to 'cap'.  This could mean your mani is not sealed properly and water/moisture will affect the Peel Off Base quickly.  Try using a Builder Gel to help grow out your nails first!!
Builder Gels (Formerly Builder Base) 
Our new Builder Gels offer the strength and rigidity of a more traditional hard gel with the ease of a self-leveling formula.
Builder Gels are great options for anyone with thin, weak or damaged nails and for anyone wanting to grow out their nails. 
What is a Builder Gel?
A One-Step Builder Gel in a Bottle designed to add strength and durability when applied as an overlay on natural nails, tips or extensions.
Will it soak off in water like your Signature Peel Off Base?
No, Builder Gels only soak off in Acetone. 
Is Strong considered a Builder Gel?
Yes! Strong can be used for a clear overlay and will only soak off in Acetone. 
Do I have to soak it or file it all off every time I do my nails?
No! As your nails grow out, you can simply rebalance or "fill" the regrowth area! Go to our VIP Facebook Group or check out our YouTube Channel for tutorials!
I love the color of the Builder, but what if I want a change sometimes?
No problem! Apply our 'Signature Peel Off Base' OVER TOP the Builder, followed by the color of your choice and then finish with Shine/Matte. 

When you are ready for a color change again, simply buff the Shine/Matte to break the seal and soak in warm soapy water for 10min to remove the Peel Off Base/Color layers, leaving the Builder Gel intact!
We are here to help!  
For Product Inquiries and Support: support@kokoandclaire.com
For Website or Order Assistance: orders@kokoandclaire.com