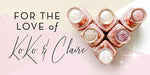 The beautiful packaging is not the only thing appealing about KoKo&Claire. It was designed with the health of the natural nail in mind. In today's blog, we're going to show you all the products and explain their use along with the order to use them. All of the
prepping and finishing products
are distinguished by the crystals in the lid. All of the
gel polish
has the colour of the gel contained in the lid.  In order to make your nail colour last, it is very important that your prep is done properly. Start by pushing back your cuticles, buffing the natural nail to remove the shine and shape the nails. Wipe the nails free of dust using
KoKo&Claire's Luxury Dust Brush.
PREPPING PRODUCTS



#1 "Clean"
is applied to dehydrate the natural nail. It removes any oils that might be lurking on the nail plate. Oil is your enemy and if not completely removed, will prevent your gel polish from achieving a solid bond.
#2 "Prep"
Works as a primer to make the gel last longer. Think of it like priming a wall before you paint it.
#3 "Base"
Apply a thin coat of base as close to the skin as you can without touching the skin. Touching the skin will prevent the gel polish from bonding completely. Cure for 30 seconds and
KoKo&Claire's mini travel LED lamp.
#4 "Strong"
is a thicker product than base that gives extra strength to your natural nails and can help the gel lacquer last longer. Apply just enough to cover the nail without flooding it into the skin. Cure for 45 seconds with KoKo&Claire's LED curing lamp.
#5 "Shine"
&
#6 "Matte"
These are our finishing top coats.  You can choose Shine to give you a high-gloss finish or choose Matte to get a matte finish. Shine is a 60 second cure and Matte is a 45 second cure. 
When the time has come to remove your gel nails, simply buff the perimeter of your gel colour & file the free edge. Doing these two things will break the seal that is attaching the gel polish to the nail bed. Soak fingernails in as hot of water that you can stand for 7 to 10 minutes. Lift a corner of the polish gently with something sharp and peel it off. Now you are ready to choose your next colour. For added fun, choose some stamping designs from CjS The Authentic & Original Clear Jelly Stamper. Have fun my friends and colour your nails pretty!