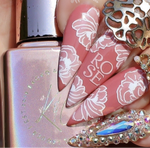 Photo courtesy of 
@fificrossnails
. KoKo&Claire gel polish used
041 "Passionate Peaches"
.
We regularly get questions about how to use KoKo&Claire so, in today's blog, we are going to go over some of those questions.
Q: Can I use my other gel polish with KoKo& Claire?


A: There is no reason why you can't use our
Base soak off gel
with other gel polish lines but we cannot guarantee it will work as effectively as it does with our line of gel polishes. If your gel polish is flexible, it should work. If your gel polish is more rigid, it might not work because more rigid gels cannot peel off without damaging the natural nail.
Q: Can you apply KoKo&Claire gel polish in layers or does it have to be applied in one coat?


A: You can definitely apply it in layers. The lighter shades of gel polishes may require 2 to 3 coats. Most of the darker shades and metallics only require one coat due to the denser pigmentation. Be careful if you're applying the gel polish in one coat in that it's not too much to cause it to flood into the skin. Contact with the skin will cause premature lifting.
Q: Does your product work well with nail foils, decals and nail stamping?


A: YES to all. KoKo&Claire gel polishes are great for adding any nail art to. The shiny surface makes nail stamping more user friendly. Either one of our top coats..
Shine
or
Matte
..work great to protect your nail art.
Q: I know your Base soaks off with warm water. How does that work with maintenance and do they come off due to baby baths, showers, dishes, etc?


A: Our Base does not soak off until the seal is broken. What that means is you will need to file/buff around the perimeter of the gel on your fingernails and then soak them in order for them to peel off. They will not come off by doing your daily routine.
Q: What would be the average time span the nails will last before having to switch colors?


A: Your lifestyle can affect the longevity of your gel polish manicure but, on average, your KoKo&Claire gel polish will last up to 2 weeks on natural nails. If you are applying our gel polishes on top of nail enhancements (hard gel or acrylic nails), they can last until you file them off.
Q: Do I apply Prep to the entire nail?
A: You can if you don't want to use the "soak off" method.
Prep
is intended to help prevent chipping of your KoKo&Claire gel polish and increase the longevity. It is meant to be applied on just the very tips of your nails. If you apply
Prep
to the whole nail, it will leave a sticky residue on the nail that cannot be soaked off. You will have to buff it off which could potentially damage the natural nail.
If you have any questions on how to use KoKo&Claire, please email our liaison to
support@kokoandclaire.com
. We would also love to see all of your creations using our products so make sure when you post your work
on Instagram
, list the products you used and tag us in your picture. We will be sure to share them on our Social Media! Stay safe my friends!