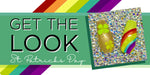 Happy St Patrick's Day from KoKo and Claire. KoKo and Claire doesn't have to be used strictly to paint the nails.  Using your imagination and other tools, you can accomplish cute nail art by hand with any of our gel polish colors. We wanted to show a look today that is simple yet adorable and all done with all KoKo and Claire gel polishes. We will break it down step by step to show you how simple it can be for any level of ability to accomplish nail art.

Nail #1.....Step 1

Nail #2.....Step 2

Apply a second coat of
061 Juke Box Money
and, before curing, use a dotting tool and place 4 dots of
KoKo and Claire 102 Enlighten Mint
into the uncured gel. This will allow it to spread out a little bit without running into each other. Then with a detailing brush like CjS Detailer brush as pictured here, move on to the next step.
Nail #1.....Step 3

From the top of each dot, drag the tip of the Detailer Brush through
to the center of the dots. This will create the look of leaves on a four
leaf clover. Drag a little bit down from the center to create a stem, cure
Create a smaller four leaf clover on the lower part of the nail using 
the same steps.
Nail #2........Step 1
For the rainbow nail, start by covering the nail with one coat
coat if needed and cure.

Nail #2......Step 2
Using the CjS Detailer Brush, paint the first color of the rainbow (red). With the wide variety of KoKo and Claire gel polishes we have, it will be easy to color match the colors of the rainbow. The first line was painted with
gel polish color 025 That's a Hard Go
& cure.

Nail #2......Step 3
The next color of the rainbow (orange) is applied using
& cure.
Nail #2.......Step 5
Nail #2......Step 6


Nail #2......Step 7

The next color of the rainbow (purple) was painted using KoKo 
and Claire
043 Plush Velvet
and cure.

Nail #2......Step 8
How cute are these?!
Have some fun with hand painting and please share your designs with us because we would LOVE to see them! Share your designs on Instagram and please tag the picture with 
@kokoandclaire
so we can share them as well. The more ideas to share with others, the better. Have a wonderful week friends!